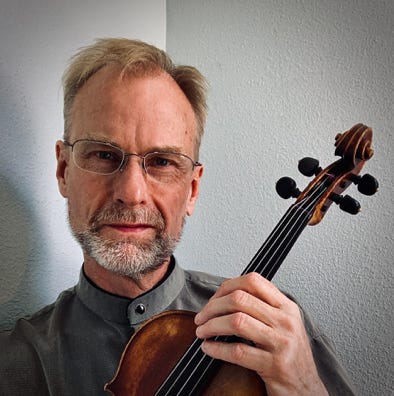 Fritz Gearhart, Festival Director
VIOLIN
Violinist Fritz Gearhart, has performed for audiences from coast to coast, and internationally in Austria, Germany, Croatia, Spain and Korea. He has appeared in major halls around the country including the Kennedy Center, the 92nd Street Y in NYC, Alice Tully Hall, and Weill Recital Hall at Carnegie. He is heard frequently on National Public Radio, including past live broadcasts on WFMT Chicago, WQXR in New York as well as Public Radio's nationally syndicated program Performance Today. A sampling from the press: "...a sizzling performance..."(The Wall Street Journal),  "...supple and imaginative..."(The New York Times), "...a superlative evening of musicmaking..."(New York Concert Review), and "Gearhart is a bold assertive player..."(Strad). He has since recorded numerous compact discs for Albany, Koch Entertainment, Centaur Records and Bridge Records. His 2014 release on Centaur Records, Music of a Lifetime, features the music of his father Livingston Gearhart. Gearhart received his Master's Degree and prestigious Performer's Certificate from the Eastman School of Music where he studied with Donald Weilerstein. Earlier studies at the Hartt School included work with Charles Treger and members of the Emerson Quartet. In 2015 Gearhart directed a ten week study abroad program in Vienna, Austria, where he taught violin and chamber music. Gearhart taught on the university level for most of his career up until 2022, with appointments at Indiana University at South Bend, East Carolina University and the University of Oregon.
Miya Saito-Beckman, Festival  Manager
VIOLIN
Miya Saito-Beckman earned both her BM in Violin Performance and her MM in Violin Performance and Pedagogy from the University of Oregon where she studied under Fritz Gearhart. Graduating summa cum laude for her Bachelor's, she was also awarded the "Graduate Performer Award" for her Master's degree. While at the U of O, she studied abroad in Vienna, Austria performing and studying both classical and gypsy music. As a graduate student at the University of Oregon, Ms. Saito-Beckman was awarded the TA position in the Pedagogy department teaching private lessons, Music Mind Games, fiddle and Suzuki group classes, while also coaching chamber ensembles and leading orchestral sectionals. Ms. Saito-Beckman has been a violin soloist with the Sunriver Music Festival Orchestra and a two-time soloist with the Central Oregon Symphony. She has studied with the Calder Quartet and the Ariana String Quartet and has taken master classes with violinists James Ehnes and Rachel Barton Pine.  In addition to her classical interests and accomplishments, Ms. Saito-Beckman is also deeply involved in alternative strings music. She has studied with members of Yo-Yo Ma's Silk Road Ensemble after being accepted to attend the Global Musician Workshop and is a recipient of the ASTA Alternative Strings Award. A four-time finalist at the National Fiddling Championship, Ms. Saito-Beckman is also the four-time Oregon State Fiddle Champion. She has performed alongside musicians such as Darol Anger, Abigail Washburn, Hanneke Cassel, Alex and Tatiana Hargreaves, Bruce Molsky, Roy "Futureman" Wooten and Ali Shaheed Muhammad (A Tribe Called Quest). She has served on the faculty at the Chamber Music Camp of Portland, the University of Oregon Symphony Camp, the Fiddlestar Youth Camp in Nashville, TN, Corvallis Youth Symphony Camp and the Northwest Suzuki Institute.
Prior to COVID-19, she resided in Brooklyn, NY where she taught classical violin and alternative strings at Manhattan's Third Street Music Settlement as well as at the Bronx Conservatory.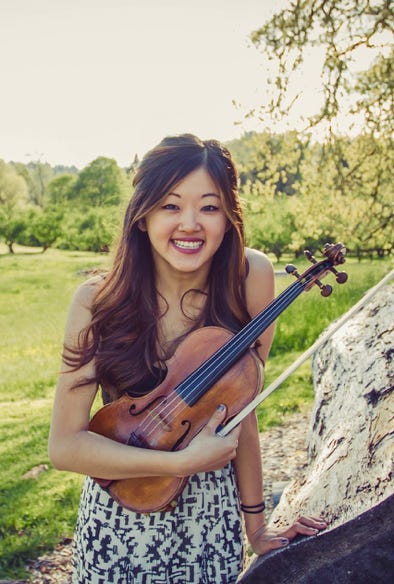 Jason Bonham, Faculty
VIOLA
Jason Bonham is a recitalist, chamber musician, principal violist and educator. Currently, Jason is the Principal Violist with the Las Vegas Philharmonic and is Lecturer of Viola at California State University Long Beach. Additionally he is a Viola Teaching Artist at Biola University. He has performed with the Chicago Symphony Orchestra, San Francisco Symphony Orchestra, Los Angeles Chamber Orchestra, Saint Louis Symphony Orchestra, and Milwaukee Symphony Orchestra among many others. In the fall of 2021 he released his first CD "Mythic" with Berlin-based pianist Stephanie Hoernes.


In 2016 Jason Bonham performed as guest principal violist of the Pacific Northwest Ballet for the live radio broadcast of "Coppelia." He also has performed as guest principal viola of the Pacific Symphony Orchestra, Berkeley Symphony Orchestra, Modesto Symphony Orchestra and the Santa Barbara Symphonies. As a chamber musician he has performed with members of the Emerson Quartet, Boston Chamber Society, Chicago Pro Musica and the Fry Street Quartet.
In education, Jason Bonham was the Director of Orchestras at Tuacahn High School for the Performing Arts, founder and Artistic Director of the Tuacahn Summer Arts Institute, and viola faculty at Idyllwild Arts Summer Program. Additionally, he served on various boards including the American Viola Society, Kayenta Arts Foundation and the Chamber Music Society of Southern Utah. He is also the Orchestra Committee Chair of the Las Vegas Philharmonic Orchestra. In the past he has been a faculty member at University of Nevada Las Vegas, Brigham Young University and Dixie State University.


Currently Jason is pursuing a PhD in Public Health, Disease Prevention where he researches the epidemiology of religion and health. Jason lives in Dana Point, California with his wife Aimee and three children.
Andrew Smith, Faculty
CELLO
Andrew Smith is an Associate Professor of music at the University of Nevada, Las Vegas, and the Principal Cellist of The Las Vegas Philharmonic. He is an original member of the Camerata Deiá, a group founded in 2001 to be the resident ensemble with The Festival Internacional de Deiá , a summer festival in Majorca, Spain. He was also a founding member of The Adriatic Chamber Music Festival, a summer music program in southern Italy, where he taught and performed from 1998 - 2008. 
An active recitalist, Andrew has collaborated with pianist Alfredo Oyagüez in cello/piano recitals in Spain, Italy, Germany, Sweden, Denmark, New Zealand, Argentina, and Japan, as well as in Kosovo, Serbia, and Macedonia. Recent recitals include performances at the Emilia Romagna Festival, the Accademia Musicale Chigiana in Siena, and Weill Recital Hall at Carnegie Hall in New York City. The Smith/Oyagüez duo recently released a CD entitled, "Spanish Music for Cello and Piano," on the Delos label in January, 2017. Of the CD, the American Record Guide said the duo plays "with verve and sensitivity," and recommended the program "without reserve." During summers, in addition to The Festival Internacional de Deiá, in Spain, and The Adriatic Chamber Music Festival in Italy, Smith has taught and performed in several music festivals, including the Marrowstone Music Festival, Festival Mozaic in San Luis Obispo, CA, the Rocky Ridge Music Center, the Blue Mountain Festival, Dakota Chamber Music, The Green Valley Chamber Music Festival, the Tuacahn Summer Arts Institute, and The Las Vegas Music Festival. 
Mr. Smith is a recipient of the Doctor of Musical Arts degree from the University of California, Santa Barbara, where he was a member of the Young Artists String Quartet. He has also earned a Master's degree from The Mannes College of Music in New York, and a Bachelor of Music degree from the Hartt College of Music in Hartford, CT. He has studied cello with Timothy Eddy, Bernard Greenhouse, Leslie Parnas, Ron Leonard, and Geoffrey Rutkowski.